---
1. Introduction
Energy Solution Centre congratulates you for the purchase of your quality solar energy system. Aside from providing significant energy savings, your installation represents an important contribution to a sustainable future. What better satisfaction than knowing that your solar energy system is quietly providing environmental and cost saving benefits.

Comprised of certified high-quality products and installed for optimal performance, we trust you will be truly satisfied with your new energy system for many years to come. No matter what the requirement, our philosophy is to provide and assist our clients as best we can to make yours and our contributions to a sustainable future for generations to come. Although this manual provides you with many step-by-step processes to assist with managing your solar, we strongly recommend that you do not attempt to service your system yourself unless you are appropriately qualified. Your safety is our main concern.

We welcome you not only to the new and emerging world of solar energy, but we also welcome you to our family here at Energy Solution Centre. Please take the time to read and understand this manual, as this manual will help you throughout your time as a solar owner with Energy Solution Centre.

If you are experiencing any issues or complications with your system or any of its compartments, the staff at Energy Solution Centre are always happy to help. You can call our showroom on 1300 217 079 between the hours of 8:30am – 4:00pm (Mon-Fri) or 9:00am – 1:00pm (Sat) and one of our team members will be able to assist with any query.
---
2. How Does Solar Work?
All our customers are adequately educated before purchasing solar; Therefore, we understand you may already have a sound knowledge of how solar works. Below we have a simple explanation and representation of how solar provides your energy.
Let's Break It Down:
A Solar Array is a collection of many solar panels that work to generate electricity as a system. The solar array converts sunlight into direct current also known as DC.
The DC electricity is fed to the inverter where the inverter converts the DC electricity to alternating current also known as AC electricity. The AC electricity is then compatible with the electricity that is supplied to your house from the grid.
Your solar system is connected to the grid on the "net metering" system. Net metering means that any electricity being used in the house during the day will be used up from the solar electricity. Any excess will then be fed through the meter into the electricity grid. If you generate more electricity than you end up using, your electricity provider can then credit your electricity account as there is a 'feedin' tariff you receive which can help offset your household
consumption.
---
3. Your System
3.1. System Components
Solar Panels
Solar Panel PV Manufacturer:
---
Inverter
Battery/Smart Hybrid
Hybrid Inverter Manufacturer
---
---
ESC Panels and Inverters are
certified to the following standards
CEC (Clean Energy Council) of Australia – the peak body representing Australia's clean energy sector, an industry of >500 member companies in renewable energy.
TUV (German) – a leading global provider of technical services.
CE (EU) – a mandatory conformance mark of the EU, certifies that a product has met EU consumer safety, health or environmental requirements.
UL (USA) – UL is a global independent safety science company.
IEC (Internal Electro technical Commission) –international standards organisation, prepares & publishes International Standards for all electro technology.
ISO (International Standards Organisation) –the world's largest developer and publisher of International Standards, a network of national standard institutes based in Switzerland.
AS/NZS 3000 Australian and New Zealand Wiring Rules.
AS/NZS 4777.1 Grid Connection of energy systems via inverters – Installation requirements.
AS/NZS 5033 Installation of photovoltaic (PV) arrays
---
3.2. Shutdown and Isolation Procedure for Emergency and Maintenance
In an event where you need to shut down and isolate your solar system, whether that is in an emergency or for maintenance we understand it can be
easier to be educated enough to do this individually. The following information is a step-by-step process on how to shut down and isolate your solar system and also how to start your system back up.
To Shut Down Your System
Locate the Switchboard or Distribution board used for your
solar installation.
Locate the AC 'Solar Supply Main Switch' and switch it off.
Locate the DC 'PV Array Isolator' which can be found next to your inverter.
Switch off the DC 'PV Array Isolator'
To Start Up Your System
Locate the DC 'PV Array Isolator' which can be found next to your inverter.
Switch on the DC 'PV Array Isolator'.
Locate the Switchboard or Distribution board used for your solar installation.
Locate the AC 'Solar Supply Main Switch' and switch it on
WARNING
Please be cautious that there are open circuit plugs, socket connectors and/or PV Array DC isolators under load.
---
3.3. Shutdown and Isolation Procedure for Redback Battery
In an event where you need to shut down and isolate your battery system, whether that is in an emergency or for maintenance we understand it can be easier to be educated enough to do this individually. The following information is a step-by-step process on how to shut down and isolate your battery system and also how to start your system back up.
To Shut Down Your System
Go to the control panel on the Redback system and open transparent door.
Shutdown procedure is a right - left turn off and left - right to turn on.
Isolate or turn off the "Grid supply circuit breaker on the right"
Next, isolate the "Back Up" circuit breaker on the right
Then turn off the large black rotary DC isolator
Lastly, turn off the DC battery breaker on the right side
Wait until all lights go out before any works proceed on the system
Warning there will still be voltage present at the inverter from the solar panels, isolate at the roof if required.
---
3.4. System Maintenance
Photovoltaic Modules (PV Modules)
Our panels are individually tested to ensure longevity and durability, certified to international standards. Although solar panels are essentially maintenance free – the occasional inspection and maintenance periodically will ensure optimal performance. Regular cleaning may vary depending on respective circumstances such as climate and location. Cleaning is only necessary during the longer dry periods. Dust is removed by washing with water. However, if the module shows evidence of thick dirt or grime, wash with warm water and a non-abrasive sponge. Keep in mind that detergents should not be used when cleaning your module
WARNING: Check panels for any breakage on the glass surface before
cleaning.
Please do not attempt to clean or come in contact with a solar panel that has a broken glass face – this can result in dangerous electric shock. Always take precautions when working with heights, especially on sloping wet surfaces.
Shading:
Please be aware that any shading on your solar array will result in sub-optimal performance. Each panels output will be at the level of the least performing panel, so if one panel is shaded, therefore has a compromised performance which will result in all the panels performing at the same output. Consider ensuring shading is minimised or at its best eliminated and be aware of shading conditions throughout the year as winter sun sits lower and shading is generally longer.
Inverters:
Inverters are essentially maintenance free however, to ensure good function
consider the following:
Check the inverter display (LED message/lights–ensure there is no red light showing on the inverter).
Wipe the inverter clean with a dry cloth occasionally.
Ensure the unit is not infested by vermin or insects.
WARNING: Do not tamper with the System wiring.
Both AC and DC circuits are extremely dangerous and potentially lethal. Only suitable licensed personnel can perform these duties
---
3.5 Operating & Safety Instructions
Your solar system is designed to automatically operate with no need for any user interaction. There are no moving parts, apart from normal monitoring of performance, there isn't a need for the owner to interfere in its operation. If you notice that your system is not performing and operating properly, please call our showroom on 1300 217 079 so we can arrange to send one of our technicians to resolve the problem. Please also consider the following:
Do not attempt to service the system yourself, please contact Energy Solution Centre.
In the event of an "Earth Fault Alarm" your solar system should shutdown immediately. If it does not shut down automatically, please contact Energy Solution Centre as soon as possible to have your system inspected.
All work regarding servicing needs to be carried out in strict compliance with all national and local electrical standards and codes.
Read and follow all safety instructions that come supplied with all components of the solar system as well as those supplied by the Clean Energy Council.
Avoid working on the system when there are wet or damp conditions.
To reduce the risk of electric shock, please remove all jewellery such as rings, bracelets etc. prior to making close contact with the system.
Please do not attempt to clean or come into contact with the surface of a solar module with broken glass. This can result in a dangerous case of electric shock.
Do not substitute any materials supplied with the solar system
---
3.6. Warranty Information
Your Solar System comes with the following warranties:

Solar Modules
12 – 25 Year Warranty (depending on manufacturer)
Inverter
Installation
10 year conditional workmanship guaranteed by ESC
Please Consider the Following:
Warranties & Liability.
All goods are subject to standard manufacturer's warranty.
The seller warrants all electrical work included in the Goods and Service for 12 months' defect warranty.
All warranties of offer and provided for, are for return to the manufacturing base for repair unless explicitly stated otherwise.
The buyer must inspect the Goods and services prior to Delivery and make any claim for rectification of defects and omissions within 7 days of the date of inspection
Upon notification of a claim for rectification the Seller will, at the seller's election: Rectify the defect or omissions, replace the Goods, re perform
the Services or refund the Price
The extent permitted by law, the Contract excludes all other warranties.
The Seller will not be liable for any indirect losses or consequential damages.
The Seller is not liable for any delay or failure to deliver, or to comply with the Contract, if the delay or failure was due to Force Majeure, obtaining
regulatory approval or the Buyer's default.
Service call outs under warranty incur a minimum charge of $185 incl GST within working hours, 9am – 5pm Mon-Fr and additional $100 outside normal working hours for items not covered by warrant, such as but not limited to damage by other contractors to installed equipment
---
3.7 Maintenance Log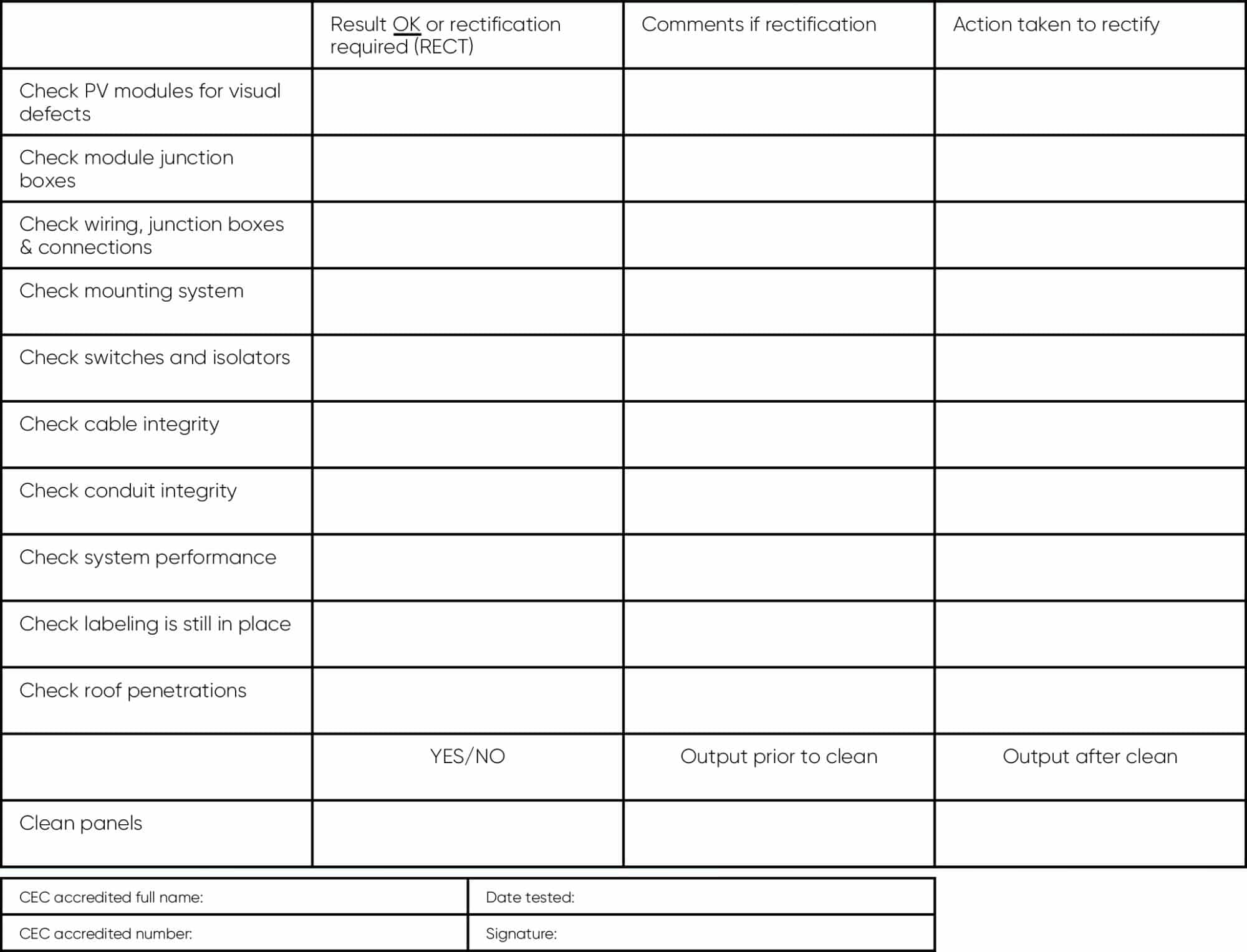 ---
3.8 Frequently Asked Questions
What maintenance do panels require?
Solar panels need minimal care. The cleaner the panels, the better their performance. Refer to maintenance section.
Always observe any safety regulations when working at height or with electrical hardware.
How strong are my panels?
Your solar panels are certified to minimal standards to withstand the elements and degrees of load. Whilst robust, avoid subjecting panels to undue stress e.g. walking on panels.
Who do I call if my panels are damaged?
Should your panels be damaged, please turn off your system and contact Energy Solution Centre.
What if I don't see my system online?
If your system is not showing on the web portal, this may indicate that there is either a network communication issue or a powerline communication issue that is causing data transfer problems. This doesn't always mean that your system is not producing power, it may just mean that proper communication needs to be restored. Call our office on 1300 217 079 if this situation occurs.
Do I need to replace the whole system if the panel/s are damaged?
No. If panel/s are damaged, the system should be switched off and damaged panel/s only, replaced. This should be covered by home & contents insurance.
Will my home and contents insurance cover my solar panels?
Yes. Your system will be covered under your building policy. Contact your insurance company to ensure the sum insured is sufficient to cover replacement of your home including your new solar power system.
How do I know if my solar system is producing power?
Check the display screen on your inverter. This will display output of the system.
If I move house or extend my home, can I relocate the panels?
It is possible to move panels but this should be balanced against the cost involved.
If I purchase a larger inverter to allow me to increase my solar system in the future, what do I do to organise the installation of more panels?
If you intend to increase your system to maximise your inverter's capacity, call our showroom on 1300 217 079 to arrange a quote. The quote will include costs for additional panels, framing installation. A site inspection will be required as approval from your power retailer.
If there is a black-out do I need to reset my solar system?
For safety reasons, all grid connected solar power systems shut down within an instant of grid power loss. This allows grid repairs to be made safely. Your system will automatically reconnect when power is restored to the grid.